History
---
Kathie Fitzpatrick, Founder
Young Lion's Youth Ministry Program
In the Spring of 1997, at the request of then Yakima Juvenile Detention Supervisor Robin Berndt, and her assistant Dan Behler, a team was formed under the direction of then Youth Pastor of Stone Church Assembly of God, Russ Tuttle. When Kathie heard about the invitation from the church platform by Russ, she felt compelled to get involved. Our community, although named All American City in 1994, was ironically plagued by unusual drug traffic/addiction, teen gang violence, and various other youth crime issues. Kathie wondered at first if she would have time. A wife and mother of two teenaged girls herself, and a busy Realtor who was also involved as Public Relations Chair for her local Board of Realtors, and already involved in community projects for that organization, it would have been easy to dismiss the thought of adding anything extra.
Soon after, their team of originally 9 people began going in on Friday nights, it was obvious the reception by the incarcerated teens was enthusiastic to say the least! The group shared Bible Life Principles for overcoming their devastating problems, and getting back on a positive track with their lives. Using personal testimonies, music and video to dress up the presentations, Friday night soon became the most exciting night of all at Juvenile Detention.
After only a couple of months into their effort, however, it became obvious that busy Youth Pastor Russ, and most of the others, could no longer be regular to the team. Kathie was faced head on with the reality that if the effort was to continue, she would have to continue on - alone.
Off went the fancy real estate clothes, the designer shoes and jewelry, and on went the black jeans, black turtleneck, black leather jacket, and the black boots. All interested parties who wanted to write offers on Friday night were re-scheduled for Saturday morning. Those who insisted saw her in her "juvy street outfit" at the closing table. "Sorry... after this I'll be leaving to do live teaching sessions with about 80 kids at juvenile detention," she would tell her surprised clients. "Most of them are drug addicts, or male gang leaders. I need to be sure we finish this by 6:30," she would tell her clients. "It has always worked out okay," Kathie says. "They have always been understanding."
Kathie used to (and still does) tell the kids "you're my date for Friday night!" During those next 8 or 9 months, she cultivated efforts to find new, regular team members, but was not successful at first. "It was obvious, many were afraid to go in. I suppose some of the news stories about kids from Yakima and the Northwest in general would have scared many off. This is a big regional center. We get all the kids arrested for serious crimes." But to Kathie, they were just kids - kids who were abused, kids who needed help, and were still at a tender age that they could be turned around. "Even the big guys who think they're tough, aren't really. They all have their soft spot, and want to talk about what's really bothering them." She saw them responding enthusiastically to her group sessions and classes, blossoming out of depression and hopelessness. Her church and other groups started helping by contributing necessary materials. Kathie threw out invitations to pastors and various church men's groups for individuals who wanted to join her, but there was no luck at first.
"I think it really stretched me as a person to work alone. I learned many valuable lessons, and did much research on many levels, and learned to develop rich material that I hope one day can be used by other people who originate these teams with individuals from other communities across America. I believe this is the real way to tackle youth drug addiction, crime, and violence. With the right caring people, and the right approach, these kids can be corrected and re-directed before it's too late!" Kathie's huge file drawer full of topics, and working material was slowly converted into a book, "EXTREME TEEN RESCUE," first released in the Fall of 2001. She is also working on a book documenting the story and the experience. To protect anonymity, all names have been changed, or only first names were used in some cases.
After about a year and a half, slowly various men, and just recently a few women, started volunteering to work alongside Kathie in this exciting youth program. "We currently have a team of 8 -- 3 women and 5 men. Many of my new team members have success recovery stories themselves, or experience working with youth. The kids are always greatly impressed! I have developed one of two page study sheets that I hand out to the students, since pencils and pens are not allowed. Material on anger management, overcoming suicidal tendencies, overcoming drug and alcohol addiction, and healing of past memories and hurts, dealing with teen sexuality issues, and just life in general. Life is hard -- kids need to learn to get a grip early on. I tailor the classes often to who Im working with in there, but my 'Dealing with Destructive Feelings' series is a real regular.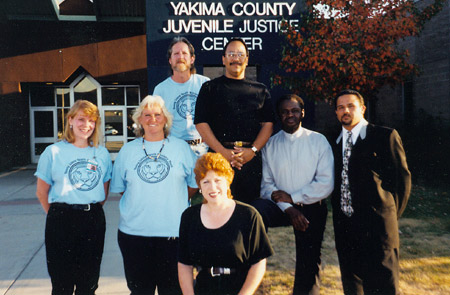 Center: Kathie Fitzpatrick, Ministry Director/Coordinator.
From Left to Right: Laleta Ferguson (Stone Church), Sandra Rowan (Community Alliance Church), Mark Donahoe (Stone Church & Honorbound Men), Pastor Paul Reboca (Shepherd's Heart Ministries), Pastor Emmanuel Burns (Grace Temple Ministries), Robert Reboca (Shepherd's Heart Ministries)
Not Pictured: John Steinman (Stone Church), Earl Leadon (Stone Church & Honorbound Men), Chris Reinmuth (Yakima Foursquare Church)

"The rotation of students through Juvenile Detention is amazing," says Kathie. "Including some teens who are in for more minor offenses, and truancy, in six years we estimate that we've seen and talked to between 12,000 and 13,000 teenagers. That's bound to make an impression! An estimated 4,000 have made decisions for Christ, and have begun reading the Bible for the first time! We'll never know where all these young people are, as they are released, or remain incarcerated in many different institutions, sometimes even various states. It is our prayer that these seeds will grow, and they will continue on in what they've learned."