Support the Young Lion's Youth Ministry Program
---
Young Lion's Youth Ministry program is a group of volunteers from various churches around the Yakima Valley who feel called to work with troubled and "at-risk" young people. Although the majority of youth we work with are between the ages of 14-17 years old, some are children who are as young as nine. The Young Lion's Team is based out of Stone Church under the directorship of Ministry Coordinator Kathie FitzPatrick, and began originally in 1997. Young Lion's Youth Ministry has been specializing in working with incarcerated youth with our ministry efforts focused here locally at the Yakima County Juvenile Detention Center, also known as the Juvenile Justice Center, at 1728 Jerome Avenue, Yakima WA.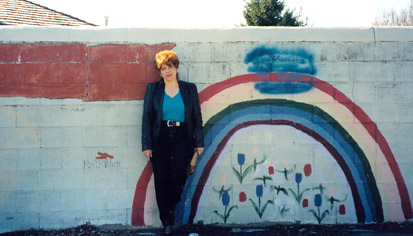 Currently, we have one weeknight program, involving services/classes with three classrooms in progress at once, and one weekday session with the girls only. These classes and discussion groups range from evangelistic services, and new believer growth, to practical application classes, such as the "Dealing With Destructive Feelings" series which covers a faith-based approach to dealing effectively, and overcoming deep problem issues such as anger, violence, suicidal tendencies, overcoming drug addictions, and teen pregnancy issues. The book Extreme Teen Rescue, by Kathie FitzPatrick was developed over four years of writing effective study sheets for the students in the groups at Yakima County Juvenile Detention. Now, the manual Extreme Teen Rescue, is being used by Chaplains and youth detention volunteers in other youth detention centers around Seattle, the Northwest, and other parts of the USA. The Young Lion's "Rescue" manual is also favorite companion material to "God Pod" here locally at the County Jail, and numerous Teen Challenge centers in the Northwest, and other locations nationally.
Young Lion's Youth Ministry program is an non-profit, 501-C3 organization with tax exempt status from the IRS. We welcome donations from the public, as well as from churches, and welcome information on various private grants that would apply to our youth services organization, specializing in juvenile delinquency prevention. We will never know where all the youth go after our training, class discussion groups, and caring. Although we can and do track some of them. As our staff grows, and support grows, we hope to make this one of our main priorities. But we do know that we see them open, and receptive to our concept, and the love and caring of our team volunteers. We see and hear them changing, expressing new positive attitudes about new life changes that are healthy, and promote a more productive lifestyle with God's help. It's all achieved little by little, like the growth of an acorn to a giant oak tree! Or like Kathie FitzPatrick, our primary trainer, has told them, "If you don't give up, you're on your way to becoming strong and mighty!" The name "Young Lion's" was born out of this idea. The weak, the rebellious and the abused leave their old attitudes for new, strong healthy ones that can potentially carry them on to great things as they mature with life healing... if they don't give up! Some of us get to see more growth than others, before they are transferred to a new institution, or return back home to their families. It's great to see family restoration and new lifestyles free from drugs and rebellious attitudes in so many who respond to our program. Little by little, new lives are shaped.
As offenses drop off the record, often positive things like jobs and education begin to develop in their lives. I guess one of the greatest compliments, or rewards of this volunteer work that any of our team members can receive is to run into a happy young adult in their 20's who says to one of us: "Hey, I remember you! We met in "Juvie" when I was 15 years old, and I was in a lot of trouble. Since then, I've been active in my church, and much has been healed. I'm in school, and working. My family is doing okay..." The smile on their face says it all. From dark gloom, to light. The restoration of a life. That's what it's all about!
Is this your "ministry calling," or volunteer direction? Or would you just like to be a regular supporter of Young Lion's Youth Ministry? Donations can be sent to us in care of:
Stone Church Assemblies of God
3303 Englewood Avenue
Yakima WA 98902
Checks payable to Young Lion's Youth Ministries
---
Projected Goals
Immediate:
Raise money for our own sound system to leave at the Yakima Co. Detention center, for our own use.
We can also use funds for additional materials and videos for our presentations.
We would like to offer the "Dealing with Destructive Feelings" series in classes outside of juvenile detention. This class will be a once or twice a week class that spans a 6-8 week period, and could possibly be offered at Stone Church three times a year.
Long-term:
We would like to establish a small staff, and eventually, our own office and training center based in Yakima, Washington.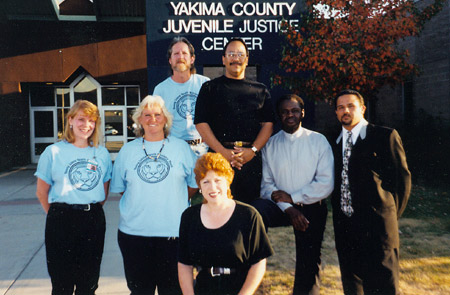 Center: Kathie Fitzpatrick, Ministry Director/Coordinator.
From Left to Right: Laleta Ferguson (Stone Church), Sandra Rowan (Community Alliance Church), Mark Donahoe (Stone Church & Honorbound Men), Pastor Paul Reboca (Shepherd's Heart Ministries), Pastor Emmanuel Burns (Grace Temple Ministries), Robert Reboca (Shepherd's Heart Ministries)
Not Pictured: John Steinman (Stone Church), Earl Leadon (Stone Church & Honorbound Men), Chris Reinmuth (Yakima Foursquare Church)